from grind to shot
This page will show the process from grind to shot, I'll update it as I get better, what I won't be doing though is taking the best photos and videos from different processes.  If I update it, it will be from start to finish for the one shot.
What I have also included is the process of seeing where 9 bar is on the EM6910.  This is done by inserting the Dual Floor Double basket into the portafilter.  The whole thing is then put into the group head as is, no coffee added, press the manual button and wait the normal 30 seconds.  You will see the gauge move up to where 9 bar is for your machine (this can actually be done for most machines regardless of what they are).  When you pull a shot, this is the mark you aim for when pulling a shot, I have to say though, this is NOT the be all and end all.
The following 3 videos show the 9 bar mark, you will notice that it does slightly change although not by much.
The grind is through my No.1 Spong, the bean is a Tanzania Rononi.
Showing the depth of the tamp.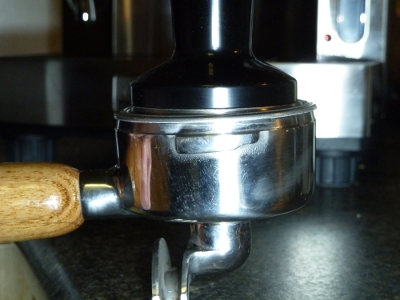 Showing the depth of the grind in the basket.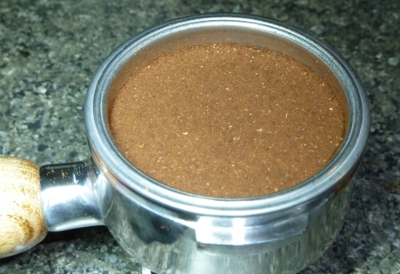 The following videos show the gauge reading and the actual shot itself.  The shot was done pressing the double button, not something I normally do, I use the manual button and time my shots but due to having everyone occupied it was the easiest thing to do, I haven't adjusted it for shots yet so yes it does blonde a lot at the end.  The result was still ok in terms of taste but not as smooth or well rounded, not bitter but not right either.
This is a photo of the shot after settling.