Back to normal programming…
I have added my website to a few different forums, along the way have received a bit of criticism for doing the adjustment myself and that I have done it the 'wrong' way.
The way Breville does it, is to not take the back off, taking the back off made for a better photographic journey though so that's the way it was done.
I have also had people contact me for my website so they can do it themselves as well.  I have to say that those people found my instructions very easy to follow and successfully have adjusted their OPV as well.
Now a little word about what happens after adjustment.  I have noted and others have as well that if you have used your BES900 for a while before adjustment you may get a flutter happening.  The video below shows the type of flutter I'm talking about.
I was advised wisely that this may be fixed by performing a cleaning cycle and also cleaning the shower screens and additional parts that make up the group head, these are the parts that actually come away from the group head when you take the screw out of the shower screen.  The photo below shows all the gunk that came away when cleaning these parts, our machine is a low use machine, I do a possible 2 coffees a day with up to 4 coffees per day on weekends.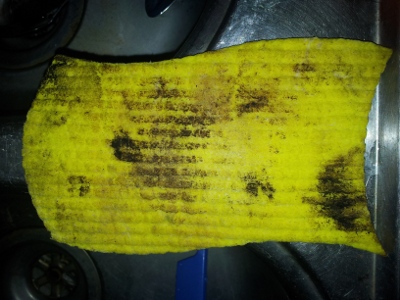 The result is below, there is a definite difference between the two photos.  This is using the Kenya Kagongo Peaberry, it is not quite ready for use (4 days post roast) but I couldn't hold off any longer.
Now for some funny stuff, this is how NOT to pull a shot 🙂
I can still choke it, also showing that the OPV is only set to 10 bar, that is as far as it will go when choked.
…anyone for fluro coffee 😀
…and now for a gusher
The problem with the above was I feel a small bean problem but a bigger user problem.  The beans were not old enough I feel to have this happen, I'm absolutely positive that with a different set up and USER that others could still get a decent shot.  I spent TWO WEEKS going through this, sink shot after sink shot 😀
I am so so so happy I'm back on track.