Set up and initial use
Here is the full details of what happened when I first got the EM6910, the breaking in process so to speak 🙂
I am part of the Crema Forum for coffee enthusiasts.  The forum is a fantastic place, full of guys and girls with so much experience.  This is where all my help for this particular machine has come from.
When one of the guys saw that we'd bought the EM6910, he specifically set up a thread for tips and trick.
My first question: while I'm waiting (we had purchased but not received delivery) I'm looking at videos on youtube, I'm finding so far that they have all gone over the optimum pour section into the over extracted section.  I guess I shouldn't be surprised that besides a tiny bit in the manual they don't make any reference to it either.
Oh the question is, do people find that this actually does happen regardless?
The answer: Ignore the Gauge values and IGNORE what many do on the tube 😀

Most important tip…
Run a double floor basket with no coffee…  AND watch where the gauge sits.
This is in effect approx 9bar.  If you grab a Sunbeam double floor basket and run in a normal machine with a brew gauge that is working correctly; you get a pour rate and a back pressure of approx 9bar 😀

So do the test and see where YOUR gauge sits..  Usually between 11 through to 2 (in the extrema).  Most of the ones I have used are about 11 to 12.
So by changing grind and dose you can work out the best / optimum for that bean, while running at close to 9bar.  Dose should be close to the 5cent piece test.
Some have found that you can be a bit over the so called "sweet spot" and it is OK.  It is about what is in the cup and all this is subject to some playing and a little bit of give and take.
Others, do not understand the relationship of grind and dose and keep going until they get a flow they think is good but ignore what the gauge is really telling them.  However, it can often mean they are running at a high group pressure as the EM6910 does not have an OPV as such.
This OVER dosing and Over Pressurising is what also leads to excessive stress on the collar and other parts of the machine.  It can also mean that coffee fines get forced back through the machine and then the gauge does not work and in the worse case, the crap can even get into the steam pump.
WARNING.  Before doing a a major clean or serious chemical back flushing.  Remove the shower screens (yes two of them) and give it a manual clean first.
NOTE: Do not over tighten the shower screen screw, and if possible; loosen before you start even using.  I always like to use some rice bran oil to lube the Seal and the screw.
Yahhhh I got a call that the EM6910 had arrived, I got down there so quickly it was probably the quickest pick up they'd seen 🙂
Now after having a play with the grinder as well as doing the pre-use flushing and warming up, the following is what happened…
LMAO this is fun, we have a grinder that even on the coarsest settings is too fine 🙂  Maybe they doubled the shims in ours, we haven't pulled it apart that far yet.
Unfortunately we're using Jeff's PST coffee (sorry Jeff :)) to try this out with but I have to say the last shot that I pulled didn't taste anywhere near as bad as what I was getting out of the Presso with the same coffee.
So I think there is progress.
Was a little worried at the start when no water came out for ages 🙂 Steve thinks that the steam is really dry already so I'm going to leave all the settings where they are at this stage and change them as we need to.
Yes thank you for the initial information about where 9 bar sits, we did that as the first run with the double floor basket.
I still think that the normal double basket doesn't have enough holes in it, this coming from a Presso user where the baskets are like the new VST baskets, holes all the way to the outside.
We also checked the shower screens, why do they need two?  Anyway both had all holes punched so it's all good there 🙂
Ok now back to working on the making the grind coarser, I might go and manually grind some now, oh and I'm only getting I think about 18g in the double basket, more measuring to do too.
Oh oh one last thing – it's bloody NOISY!!!  I'm hoping it settles down a little once it's worn in!
I had received comments from the guys about the noise and yes it's to be expected.
LMAO that noisy comment went for both the machine and the grinder, we were running both at once and couldn't talk to each other.
Ok I think I'm close, with my MANUAL grinder mind you LMAO  I'm laughing my head off at the people that scorned me for using a manual grinder but if they are reading this their comment will probably be "oh it's only a sunbeam" 😀 This is definitely fun, learning all over again 🙂 I am sorry that I had to use the PST in this way but it's the only coffee we have enough of to see the differences to start.
Second question: Ok I know you said don't worry about numbers, so of course here is a numbers question 🙂 I know where the 9 bar sits and the last shot I pulled I got 30ml in 30 seconds out of 16g of coffee and I think it tastes not half bad (I say that because I don't think I really like the PST coffee but of all the tastes I've had and originally through the Presso it's great in comparison).
So the question is is that when I watched the gauge it goes to the middle of the darker yellow/brown section.  This is in comparison to where the 9 bar sits which is almost on the middle between the lighter yellow/brown section but leaning ever so slightly to the lighter side.
Do I just say stuff it if I think the coffee tastes fine and that's where it will sit for us, or do I play around to try and get it back towards the centre of the two?
Tomorrow I'll take photos and video hopefully, that will probably be easier to understand than my waffle 😀
Answer: Talk clock numbers, as different models came out with different colour and placement.  Thus your comments "So the question is is that when I watched the gauge it goes to the middle of the darker yellow/brown section.  This is in comparison to where the 9 bar sits which is almost on the middle between the lighter yellow/brown section but leaning ever so slightly to the lighter side.
"Translates as " Dus de vraag is, is dat wanneer ik de meter gekeken gaat het naar het midden van de donkere geel / bruin sectie. Dit is in vergelijking met waar de 9 bar zit, die is bijna op het midden tussen de lichtere geel / bruin sectie, maar leunend ooit zo iets naar de lichtere kant."
In other words:    Double Dutch    🙂 😀  But every one will know if you reference a clock.So your 9Bar reference is  X  and you shots are ?It come back to, how was the cup ?
Remember, beans, grind and dose will impact on the cup and the back pressure (brew head pressure) and it is that balance that gives the cup, that is important..
If the sweet spot is 12 and your shots are between 11 and 1…  And you like what's in the cup and your consistent = Great.
If its at 9 or close to 3 then, even if the cup is OK….  It is an indicator that things are not balanced and you could do better.  And if you at 3 your also pushing things to their limits and that is also not so good.
Dose level and consistency is a key factor…  Thats why pods are so great…
Response: Oppps sorry about that, I completely forgot.The last good shot I got the gauge was at 12, the 9 bar reading was at umm about 11 closer to 11.5 I feel.So from all the double dutch up there it's a thumbs up I take it LOL
So that is where I come to my blog post of 24 August 🙂
She shoots, she scores 😀
I did my first double basket, I only had 20g of Steve's coffee left so though why not.  60ml in 30secs.  I think I tamped too hard so the gauge was a little over where it was last night but as AM said it's what's in the cup that counts and it sure looked good.
The judgement: powerful hit of coffee and nice.
Surprisingly when asked in comparison to the Presso he said that when I got the Presso shots right they were just as good as his coffee today.
Lesson for all LOL don't drink coffee on an empty stomach and go to bed LMAO I was still awake at 2am with my arms vibrating 😀
Photos and video of the coffee I just made, I was wary of tamping too hard and not overfilling the basket, it only had 19.26 grams in the double basket, which is obviously just a little off the mark, as the video shows.  It should read closer to the middle of the two yellow sections.  The shot I did this morning for Steve was at 12:00.
The bean is Tanzania Rononi, I roasted it on the 19 August.
Packed portafilter with AMs specially made wood handle, I love it 😀
Set up waiting for me to press the button.
The shot result.
The complete result with milk.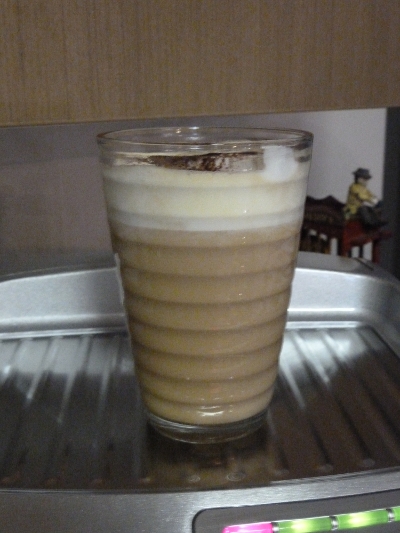 Taste, well it was drinkable but I do think it could be better…